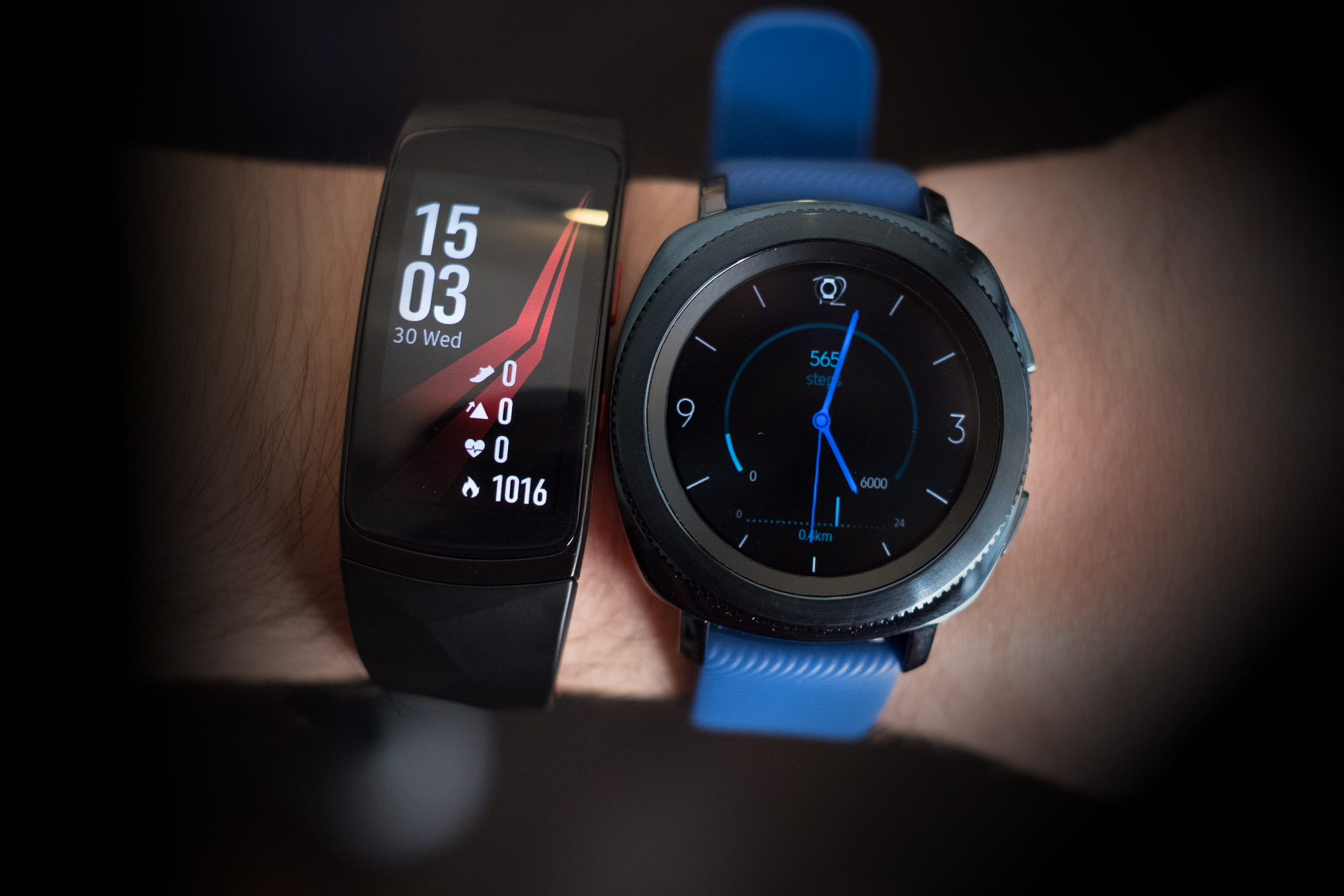 Wearable Trends at IFA 2017
IFA (Internationale Funkausstellung Berlin) is one of the oldest industrial exhibitions in Germany and the biggest tech show in Europe. This year's IFA hosted 1,805 exhibitors, who occupied over 1.7M square feet of the sold-out show floor. From ground-breaking innovations to highly anticipated product launches, IFA's visitors had the opportunity to get a glimpse into the near future of digital lifestyle products in one place, and tech companies were able to demonstrate which trends they see as important.

"Fitness wearables have become the norm in the shortest space of time, providing a perfect example of how quickly technologies can transform our lives," said Alexander Zeeh, Samsung's director of home appliances. "This is exactly what our motto for this year's IFA expresses: 'the new normal' … Samsung has been actively working to shape this trend for five years now with new innovations such as our Samsung Gear smartwatches."

Judging by the large number of product launches of wearable devices at IFA 2017, Samsung isn't the only company that sees things this way. In fact, the wearables market is predicted to be worth $25 Billion by 2019 by the industry analyst firm CCS Insight. As we go over the most important wearable devices that were launched at IFA 2017, notice that all of them fit into the lifestyle product category, with a clear orientation toward sports and health. The Samsung Gear Fit Pro 2 is a relatively thin and narrow smart band with a vibrant, 1.5-inch AMOLED display. The target audience of this product are swimmers, who, along with clumsy individuals, are likely the only people who will benefit from the band's 5 ATM water resistance, which allows the Gear Fit Pro 2 to withstand depths of up to 50 meters. The band can even automatically detect when it's underwater and switch to Water Lock Mode to prevent water bubbles from interacting with the touch display.

Of course, Samsung didn't forget about terrestrial athletes when designing the Gear Fit Pro 2. The built-in GPS sensor provides accurate location tracking, and the heart rate monitor on the back of the band offers continuous heart rate monitoring throughout the day and when exercising or playing sports.

The Gear Fit Pro 2 has a speedy dual-core CPU clocked at 1 GHz, 512 MB of memory, and 4 GB of storage space. It runs on Samsung's open source operating system based on the Linux kernel, Tizen, and supports Spotify offline playlists. The 200 mAh battery lasts several days in standby mode and one or two days when used moderately often.

The Samsung Gear Fit Pro 2 band is now available for pre-order for $200. While the Samsung Gear Fit Pro 2 will appeal mostly to fitness enthusiasts and people who train every day, the Samsung Gear Sport is Samsung's latest attempt to capture the smartwatch market as a whole. The design of this smartwatch is a well-executed mix of a timeless, semi-round, metal watch face with a durable and water resistant 20 mm nylon band, which suggests that the Gear Sport isn't afraid of water. In fact, the smartwatch can survive up to 50 meters deep under water, under the ISO standard 22810:2010.

The Gear Sport helps users make the most out of every opportunity to exercise and reach various fitness goals. "When you're on an airplane, Gear Sport adjusts accordingly, suggesting stretches that you can do from your seat. When you're driving, it's also smart enough to know that you're focused on the road, not just inactive, so won't ask you to stretch your muscles," Samsung explains on its website. Like any good personal trainer, the Gear Sport lets users choose from dozens of workouts, measuring progress with the built-in heart rate sensor.

The Gear Sport also features NFC-based Samsung Pay compatibility for contactless credit and debit card payments. Additional functionality is available in the form of third-party apps, such as Endomondo, MyFitnessPal, and MapMyRun.

The Samsung Gear Sport smartwatch is expected to arrive in October, but its price has yet to be announced. When Fitbit acquired Pebble, the Kickstarter-funded smartwatch manufacturer, for $23 million last year, everyone knew that it was only a matter of time before Fitbit released a spiritual successor to Pebble smartwatches. That smartwatch is now here and its name is Fitbit Ionic.

The Ionic smartwatch runs on Fitbit OS, offering full support for third-party applications. Developers can easily create new apps for the Ionic using JavaScript and SVG web standards. Fitbit gives developers access to all sensors the Ionic has, so the possibilities to create interesting apps are virtually limitless.

The Ionic has a built-in GPS and a heart rate sensor, is water resistant, supports contactless payments, and has plenty of storage space for offline music. The smartwatch features a slightly curved touchscreen display with up to 1000 nits of brightness and Corning Gorilla Glass 3 for protection.

Clearly, The Ionic is a premium product, and the steep price of $299.95 makes it the most expensive Fitbit device yet. What's more, it also makes it more expensive than the Apple Watch Series 1, which could turn out to be a huge problem for Fitbit, a company with a great reputation for its relatively simple activity trackers that start at less than $100. The Invoxia Roadie is an elegant GPS tracking device that doesn't require a SIM card and has a battery life of up to 8 months. Invoxia sells the Roadie tracker for $99, and the price includes a 3-year network subscription.

What sets the Roadie apart from other compact GPS tracking devices is its ability to combine GPS technology with local wireless networks for maximum precision. This comes in handy, for example, when the Roadie is used to track a piece of luggage as it travels from airport to airport. The Roadie can be easily configured through the official mobile app, supporting location-based notification updates as well as real-time tracking. At IFA 2017, it was apparent that headphones and earbuds are becoming as wireless as they possibly can be. The EarPods from Apple are no longer the only elegant fully wireless earbuds on the market. The Bang & Olufsen Beoplay E8 are smaller than the EarPods, and they promise better sound quality and a comparable battery life.

The Beoplay E8 are controlled by touch, allowing users to change tracks or take phone calls with a simple tap on the earbud. The aluminum construction should offer excellent durability, and the provided leather charging case is just one of many ways how Bang & Olufsen hope to justify the $299 price tag. The Gear IconX from Samsung look like ordinary wireless fitness earbuds, but they are actually one foot in the fitness tracker territory. Inside the Gear IconX are a heart rate monitor, an accelerometer, and 4 GB of storage space. Thanks to all this technology, the Gear IconX can, more or less, replace a smart fitness band while also being great at playing music. The internal memory can hold up to 1,000 songs, so no smartphone is needed apart from synchronization.

The Gear IconX have a layer of P2i nano coating for extra water resistance, and they ship with a compact charging case with a 315 mAh battery. Bang & Olufsen is betting on premium sound quality, Samsung on fitness tracking features, and Sony on noise cancellation. The WF-1000X feature 6 mm drivers and Adaptive Sound Control to achieve the best possible sound quality with the least amount of background sound. Users can choose between two noise canceling modes: Normal and Voice. The former mode lets through all essential background sounds, which comes in handy when biking or jogging outside, while the latter mode only lets through the sound of human voice.

The Sony WF-1000X earbuds show that wearable devices don't have to come with revolutionary features to be attractive. Miniaturization of existing technologies can give us wearables that solve already solve problems in a better and more elegant way.
Conclusion
It seems that wearable devices and the fitness world are a match made in heaven. The smartphone is perhaps the main reason why we don't see more products aimed at people who don't wear neon running shoes, hi-viz jackets, and yoga pants. If you have large pockets for a smartphone, why would you spend hundreds of dollars on a device that offers only a handful of useful extra features?

Still, smartphones leave plenty of room for single-purpose, low-cost wearables like the Invoxia Roadie Tracker. We just have to wait for the technology to become more affordable, which may take a few more years. For the time being, we will likely continue to see similar products being launched as those at IFA 2017.


Comments
comments
Trackback from your site.