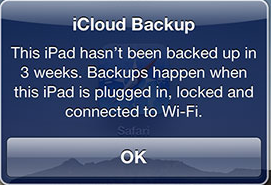 Have you ever received this message on your ipad "Icloud Backup" "This Ipad has not been backed up for two weeks. Backup happens when ipad is plugged in, locked, and connected to wifi"

Two things you can do to solve your nagging message:

1.) Plug in your ipad, connect to wifi, go to: Settings >> iCloud >>Storage & Backup >>Click "Back Up Now"

OR

2) If the message still persists, which seems to be a bug on some iPads, then a reset should help. Tap and hold the Home button and the On/Off button at the same time for approximately 10-15 seconds, until the Apple logo appears. When the logo appears, release both buttons and await restart. No content will be affected.

Hope this helps those scratching their heads when your iPad nags you (in a good way).