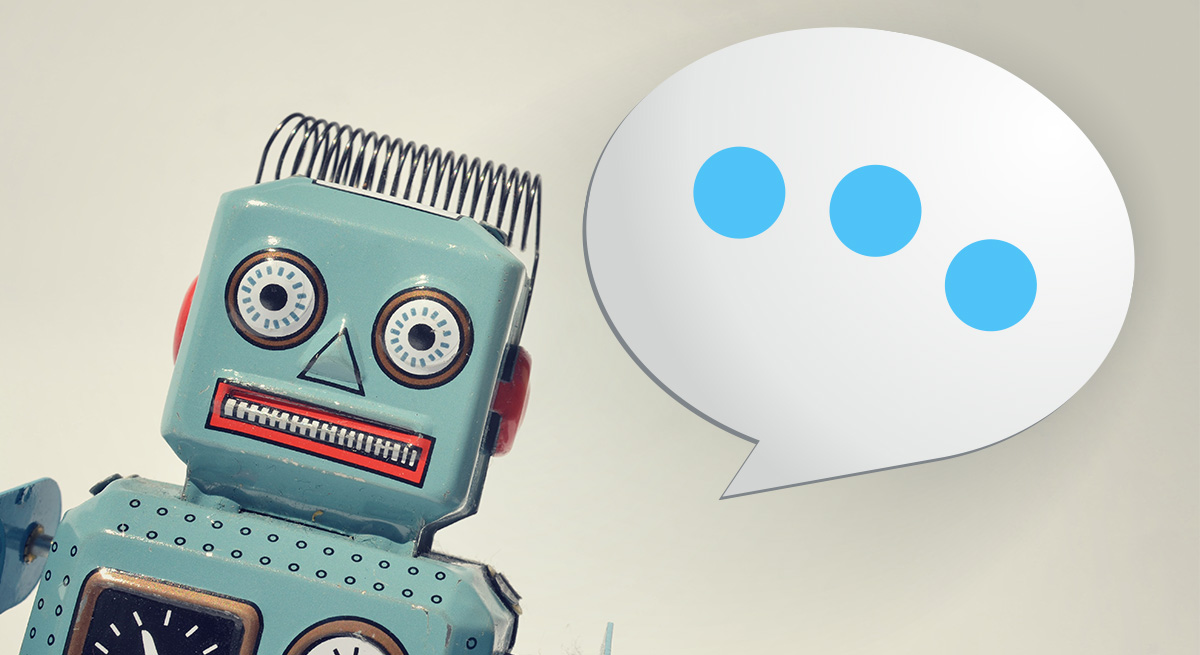 Chatbots: The Story of Conversational UI
From self-driving cars to personal assistance to home automation devices to cutting-edge medical technology, artificial intelligence (AI) is everywhere. As of June 2016, artificial intelligence received $974 million of funding, and experts predict that this figure will only rise. In fact, the AI market is set to reach $11.1 billion by 2024, according to technology research firm Tractica.

Behshad Behzadi, principal engineer of Google Now, says, "There's an element of AI in everything we do. It's just a way to interpret correctly either what the user is saying right now, or what they might need in the future." Thanks to the advances in cognitive technologies, we can now accurately recognize natural human speech, automatically translate texts, and provide end users with relevant answers to their questions. These capabilities allow us to interact with computers in a conversational way.

If we take a step back and look at the history of computing, we can see how it's intertwined with the various ways users interact with electronic devices. Just like Graphical User Interfaces (GUIs), which were popularized during the 1980s by Apple, Microsoft, and Xerox, removed the steep learning curve of Command-Line Interfaces (CLIs), so can Conversational User Interfaces (CUIs) make computers more accessible for the average person.

Deloitte analysis based on CB Insights data revealed that Conversational User Interface startups raised over $200 million in 2016. According to a report by Luxury Daily, 22 percent of consumers have used a Conversational User Interface to interact with banks. Gartner predicts that customers will manage 85 percent of their relationships with enterprises without interacting with humans by 2020.

Clearly, some of the largest industry players see Conversational User Interfaces as the future of how people interact with electronic devices, perhaps because millions of individuals around the world are already using Conversational User Interfaces on a daily basis in the form of Chatbots.
Meet Chatbots
Chatbots are arguably the biggest trend coming to social media sites and instant messaging apps. "Advancements in artificial intelligence, combined with the proliferation of various messaging apps, is fueling the development of Chatbots which can carry out different kinds of tasks such as scheduling a meeting, reporting temperature, assisting users with buying new gadgets, and so on. This has led businesses to invest heavily in the chat economy. The bot revolution is still in an early phase, but the enthusiasm is clearly growing rapidly among customers and businesses," argues Ashish Kumar, an alumnus of International Institute of Information Technology, Bangalore.

What exactly is a Chatbot? One widely accepted definition describes a Chatbot as an interface that enables users to complete a task through conversational interaction with a machine. Simply put, Chatbots are very smart programs that you can message to get answers. An e-commerce bot can help you order the right pair of shoes for your graduation ceremony, a banking bot can help you open a bank account or check your current balance, and a hospital bot can guide patients to the correct ward.

Most of these bots live inside various messaging apps, such as Telegram, Facebook Messenger, or WhatsApp. "Messaging apps seem to become the bridge between today and tomorrow. They are the most frequently used apps today. Their increasing usefulness is the number one cause for the mass extinction of the single-purpose apps," explains Radek Jezbera from Black Pine Executive Consulting, adding, "There are becoming platforms themselves enveloping services which in the past we needed to download, launch, and register within a separate app."

In 2015, more than 1.5 billion people used chatting apps, which constitute 75 percent of the time people spend on their smartphones. In China, WeChat, a social media application developed by Tencent, is already considered the most powerful app in existence, incorporating functions like online shopping, sending payments, buying movie tickets, or getting a taxi. Soon, Western instant messaging applications could be just as powerful because of the high demand for instantaneous responses.

A [24]7 study, titled A Retailer's Guide to Chatbots, Live Chat, and Messaging found that 25.8 percent of 1000 customers preferred to communicate with a Chatbot, instead of a real human being, while purchasing goods or services. This figure is surprisingly high given the current state of Chatbots, and it will certainly grow larger as Chatbots become more capable.

From the point of view of consumers, the advantages that come with living entirely inside instant messaging apps are clear: fewer installed apps, less time spent learning how to navigate various user interfaces, and better integration. Developers also greatly benefit because they can quickly reach a large number of users, instead of struggling to gain visibility in various app stores.
Chatbot Landscape
Most Chatbots in existence live in a few ecosystems that grow around popular instant messaging apps. Facebook launched Chatbots for Messenger at Facebook F8 in 2016, an annual conference held by Facebook. The company wants to partner with businesses to build deeper interactions with their customers on Facebook Messenger in a way that is contextual, convenient, and delightful, with control at its core, states the official press release. "[Bots for Messenger] can provide anything from automated subscription content like weather and traffic updates to customized communications like receipts, shipping notifications, and live automated messages, all by interacting directly with the people who want to get them." Facebook is also testing its own personal assistant, called M. The assistant should compete with Apple, Google, and Microsoft, who all have their own smartphone-based conversational personal assistants.

Telegram, an instant messaging application with over 100 million users, has recently made it easy for users to interact with Chatbots by adding support for custom buttons that exposed Chatbot features in a contextually-aware way. Telegram bots help users get up-to-date weather information, browse Wiki directly in the messenger window, plan tasks and set reminders, find relevant stickers or GIF animations, and much more.

With their Bot Framework, Microsoft is helping developers build capable Chatbots by providing various cognitive micro services that help bots understand natural language and intelligently respond to questions. Chatbots created using Bot Framework can be seamlessly integrated with a range of platforms, including Slack, Telegram, Skype, Facebook Messenger, SMS, email, and others. They can even run in a serverless, scalable environment thanks to Azure Bot Service.

According to a report in the Wall Street Journal, Google is working on a messaging service that will deliver services through Chatbots, similar to those already found in popular instant messaging applications like Kik and WeChat.

All widely used instant messaging services see Chatbots as the right opportunity how to become just as important for consumers and businesses as the largest social networks in existence. It's not just those companies and businesses that strive to stay at the forefront of the technological innovation, but also emerging startups without the resources required to gain visibility on the web who can greatly benefit from embracing emerging Chatbot platforms. The current small degree of competition in the Chatbot landscape is akin to the early days of the web, when anyone could get at the very top of Google's search results page.
Social Implications of Chatbots
In his article titled Chatbots And the Future of Conversation-Based Interfaces, Daniel Newman predicts that Chatbots could permanently change the way humans interact with the digital world. In the day and age of social media, community outreach and real-time interaction with customers can make or break a company. Instead of hiring a small army of social media experts, 62 percent of organizations will be using AI technologies by 2018, according to Narrative Science.

This may lead to a complete disruption of the customer service industry. "There's no doubt that Chatbots and their real-world counterparts, robots, will kill the customer service industry. They're cheaper, can work any and all times of the day and can be trained up instantly. You can also replicate them cheaply, without added costs," says Madhumita Murgia.

Right now, anyone in the UK can order a pizza from Domino's through the company's Facebook Chatbot, instead of placing an order on the phone. The Chatbot provides customers with up-to-date tracking information as well as the option to ask for the customer care representative should any problems occur. It's easy to see how similar Chatbots could make certain human agents completely redundant, but it's unlikely that all customer service occupations will be affected to the same degree.

Experts predict that there's a 75 percent likelihood that the profession of a call center worker will be automated in the near future. As frightening as this number can be, we must bear in mind that call center workers are constantly rated as the most unhappy and isolated group of office workers. A 2013 survey found that call center workers experience the poorest interpersonal relationships compared to other professions, and that they are twice as likely as other groups to report breakdowns in home relationships because of workplace problems.

If there's one thing we can learn from history, it has to be that humans always find new ways how to apply their talents every time a technology renders certain roles obsolete. There might be some period of adjustment, but just as typesetters were replaced by graphic designers, so will call center workers and customer service employees find other, more meaningful work.

"In the short to medium term, the main effect of automation will not necessarily be eliminating jobs, but redefining them. As the skills and tasks required in the economy change, our response should not be alarmism or protectionism, but a strategic investment in education," writes Tony Andrews, a multi-media journalist.

That being said, there's one implication of Chatbots that needs to be addressed: security. The machine-learning algorithms that make Chatbots tick rely on vast amounts of information collected from users. All data collected by Chatbots must be secured to the highest degree and deployed only on encrypted channels. Because Chatbots are designed to behave like humans and operate on popular instant messaging services, users must be protected against phishing schemes and social engineering hacks.

The biggest problem that businesses need to overcome is the fact that their Chatbots run on third-party platforms that they have little to no control over. As soon as a business decides to deploy a Chatbot on Telegram or Facebook Messenger, they are immediately at the mercy of the security measures employed by the chosen platform.

However, some may argue that the centralized approach is better than leaving security to individual businesses and organizations who may or may not have the experience necessary to protect themselves and their customers against the latest cyber threats. Even if a security vulnerability would be discovered, the owners of the Chatbot platform could immediately patch the security hole across the network, protecting all existing Chatbots at the same time.

Regardless of how these concerns will be addressed at the end of the day, it seems that Chatbots are attractive enough as they are that most current users are willing to overlook any potential issues, enjoying Conversational User Interfaces and everything they have to offer.
Conclusion
Right now, AI-powered Chatbots seem to be the next big transformative technology that will fundamentally change the way we accomplish daily tasks, such as shopping, contacting customer service support, or asking for the current weather information. Just like every innovative technology, Chatbots can end up causing major security and privacy nightmares, both for the organizations who deploy them and for end users. Considering how willing most internet users are to let social networks track every click they make, it's highly unlikely that the same users would perceive Chatbots as a potential privacy threat.


Comments
comments
Tags: ai, aws, azure, chatbots, cognitiveservices, googlecloud, machinelearning
Trackback from your site.